Sleep support
Vitality & Longevity
Immune system support
Sleep support
Vitality & Longevity
Immune system support
Sleep support
Vitality & Longevity
Immune system support
Sleep support
Vitality & Longevity
Immune system support
Sleep support
Vitality & Longevity
Immune system support
Sleep support
Vitality & Longevity
Immune system support
Sleep support
Vitality & Longevity
Immune system support
Sleep support
Vitality & Longevity
Immune system support
Sleep support
Vitality & Longevity
Immune system support
Sleep support
Vitality & Longevity
Immune system support
Known as the "mushroom of immortality" Reishi has a long history of use for vitality, longevity, immune support and whole-body wellness. This powdered extract includes compounds found in both the fruiting body and the spores, so you can experience the full benefits of this powerful mushroom.
Organic Reishi Extract (standardized to contain 27% Beta-Glucan and 1.4% Triterpene)(Ganoderma lucidum)(Fruiting Body)
Each tub contains 60 servings of extract powder and a handy little scoop. Just add one scoop to your coffee, tea, smoothies or other dishes. Take any time of day, with or without a meal.
FAQs
Mushrooms for health might seem like a funny concept – but it's nothing new. Properly extracted functional mushrooms are used to support immunity, energy, vitality, cognitive function, and so much more.
The fruiting body is the part of the mushroom that you see, the actual "mushroom". Believe or not, many companies sell "mycelium on grain" or the "roots" of the mushroom that typically grows underground. The problem is that these "mycelium on grain" supplements contain only trace amounts of the beneficial compounds you're looking for in a mushroom supplement. If you are looking for the real benefits of mushrooms, make sure the supplement is made from "whole fruiting body".
Absolutely! We take both quality and safety very seriously. That's why all of our mushrooms are tested for heavy metals, microbial contamination and active compounds, before and after being packaged in our US based GMP Certified facility.
We stand by our happiness guarantee! If you're unhappy with your mushrooms for any reason, be sure to reach out to support@freshcapmushrooms.com and we'll make it right. Unused and unopened product can be returned for a refund. If you would like to make a return, please reach out to us directly for more information.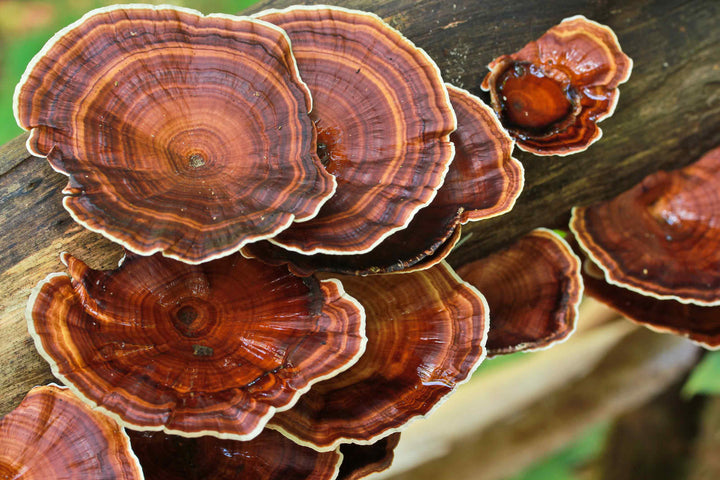 PURE NATURAL GOODNESS
We use only 100% whole fruiting body and cracked spore powder, dual extracted to deliver you powerful benefits. And then we add... Nothing. Seriously, that's it. Just Reishi.
Learn more
Whole fruiting body
Dual extracted for maximum benefit
No grain or fillers
Sustainably farmed
Organic & Non-GMO
Tested for quality & safety